Looking to stay in the Best Hotel in Hudson County NJ?
Staying in one of the nicest hotels in New Jersey near New York City is a great option for those who are looking to explore beyond just NYC and save some money at the same time. The Hudson River is lined with some really great hotels, not to mention some awesome views of the Manhattan skyline right across the water. If you're looking to do something different and stay somewhere that is really going to knock your socks off, the W Hotel Hoboken is your best bet.
Hoboken is a NJ Destination Worth Visiting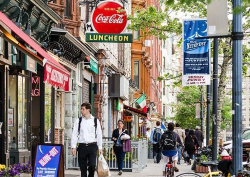 Located right between Jersey City and Weehawken, and right on the Hudson River, Hoboken is in the perfect location for those looking to travel to and from NYC during their stay.
If you've never spent a night in Hoboken, you don't know what you're missing! It is a small town–just one square mile–packed with cool bars, hip restaurants, beautiful brownstones, and lots of interesting history. During the day, walk along the Hudson River and enjoy some of Hoboken's charming parks overlooking the Manhattan skyline. At night, people come from all different parts of New Jersey to party at some of the coolest bars and clubs in the state.
Look No Further for a Hotel in Hoboken, NJ!
We have done our research and found the best hotel in Hoboken. A four star hotel sitting right on the Hudson River, W Hotel Hoboken is undoubtedly the best place to stay near New York City.
With some really great features, a wonderful restaurant with locally-sourced ingredients, and a wide selection of gorgeous rooms, you won't be disappointed with your stay at W Hoboken!
Enjoy the Most Luxurious Hotel in Northern New Jersey
W Hoboken is not your ordinary hotel, as it is one of the only places to stay in Northern NJ with as many luxurious features as it has.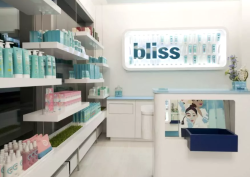 The hotel is the only hotel in Hudson County with a full service spa. The Bliss Spa Hoboken includes a nail lounge with manicure and pedicure stations, ten treatment rooms for massages, waxing, facials, and more, men's and women's lounges, and a specialty beauty boutique. It even has a brownie buffet!
The W Hotel in Hoboken also has a 1,520 square foot fully-equipped FIT gym with wonderful views of the Manhattan skyline.
Bring your furry friend along and take full advantage of the W Hotel Hoboken's PAW Program–where dogs up to 40 pounds in weight are pampered throughout your stay for a one-time $100 fee. The hotel provides a pet bed, toys, a bowl, and a daily treat.
Staying for business? Not a problem! The W Hotel Hoboken has a 24-hour business center with both PC and Mac workstations, as well as a printer, copier, scanner, fax machine, internet access, shipping services, and more.
Choose Between 8 Modern Rooms and Suites
Find the perfect room for your stay by choosing between different types of rooms and suites.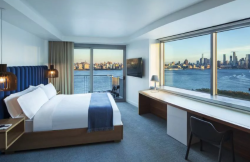 The W Hotel Hoboken offers five different room types: the Cozy Room, the Wonderful Room, the Spectacular Room, the Fabulous Room, and the Cool Corner Room. Our favorite is the Cool Corner Room (shown in the photo on the left), as it provides some really amazing views of the Manhattan skyline and is the largest option when it comes to rooms.
The hotel also has three different types of suites available for booking: the Fantastic Suite, the Wow Suite, and the Extreme Wow Suite. These suites do not fail to impress, as they really will have you saying "WOW!". If you were looking for something extremely romantic to do with your loved one, staying here for a night just may be it.
Enjoy a Delicious Meal and some Cocktails Right in W Hoboken!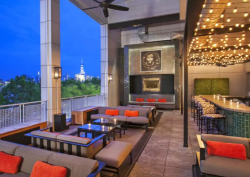 Halifax, the W Hotel Hoboken's state-of-the-art restaurant, features North-Eastern farm and coastal cuisine. Menu items are always made with fresh, local ingredients. Most product comes directly from farmers, fishermen, and artisans between Delaware and Nova Scotia. The restaurant serves breakfast, brunch, lunch, and dinner right within the W Hotel Hoboken. Beer, wine, and cocktails are also served.
The lobby of the W Hoboken, better known as "The Living Room", also serves cocktails and cool music each night of the week.
---
You Won't Regret Staying in Hoboken, NJ!
Because Hoboken is one of the coolest towns in all of New Jersey, you certainly will not regret staying a few nights at the W Hotel Hoboken.
Check out our guide for getting from New Jersey to New York City. With this guide, you can plan your routes into NYC from Hoboken quickly and efficiently.
Also, find 18 more hotels in New Jersey that are close to New York City here.
While visiting NJ, consider taking one of these 7 awesome bus tours that go to surprising destinations.