---
See our picks for the Top Monthly Subscription Boxes:
For Women For Men  For Kids Our #1 Family-Friendly Pick
---
Imagine Fun for the Entire Family Arriving at your Doorstep Once a Month…
Looking for a way to challenge, unify, and delight the family at the same time?
What if the answer to family fun and happiness could arrive at your doorstep once a month?
Box of Challenge IS that answer!
So what exactly is Box of Challenge?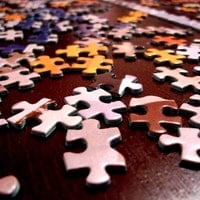 With Box of Challenge, you can expect to have an hour or two of family fun delivered each month, although you won't know exactly what that entails until the package arrives. It's a surprise! Wondering what your next box could possibly have inside of it is all part of the fun.
The boxes are designed to be 60-minute challenges with between 4 and 5 different challenges that must be solved. Some boxes even include snacks and other cool supplies.
Each box is tailored to fit the theme of the month. It is filled with awesome challenges, riddles, activities, brainteasers, and puzzles. Instructions for the month's activity are included, but expect to be challenged in the most fun way possible!
Every month you will receive a different box with completely different challenges and covering completely different and varying subjects.
Who is Box of Challenge for?
Box of Challenge is essentially designed with everyone in mind! While it is specifically recommended for ages 8 and older, whether you are 8 or 88 you are sure to be challenged, inspired and have fun!
Made to encourage family time, the Box of Challenge is best played with 2-6 people. You can even break up into teams and race to complete challenges if you wish!
Younger kids may need the help of an adult to complete activities, while older kids may be able to do so on their own. The boxes really push the importance of working together, exploring, and communicating along the way.
Some of the past boxes…
Wonder what the inside of a box of challenge might look like?
It may look like a bunch of random items, and most of the time that's exactly what it is! However, the most exciting adrenaline rush lies within!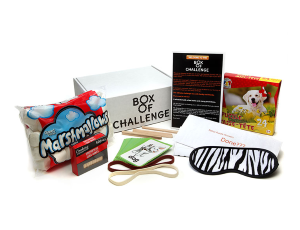 Subscribe to Box of Challenge on a month-to-month basis
Box of Challenge offers month-to-month subscriptions. You will be billed at the beginning of each month for your box and your subscription will be renewed each month.
Once your box for that month has shipped, you will receive an email letting you know that it's on it's way! The boxes ship within 2 weeks.
You are able to cancel 100% hassle-free at any time by sending the team a quick email.
Don't miss out on the chance to win awesome prizes!
Every Box of Challenge you receive has a record holder. This is the record time that it took for someone to complete the challenge.
If you are able to complete the challenge in under record time, post a video on their Facebook proving your time, and prepare to win amazing prizes!
The kids and adults alike will be so excited to open their box each month and take on the challenge of beating the record time for a cool prize.
What are you waiting for? Order your first Box of Challenge–Let the Fun Begin!
Box of Challenge is $24.90 each month and shipping is free!
Sign up is super simple and takes no more than five minutes. So what are you waiting for? Get started today!
Get Started with Box of Challenge Now!
Have you tried out Box of Challenge?
If you've already subscribed to Box of Challenge, we want to hear about your experience!
Tell us about all of the family fun the monthly subscription has brought to you in the comments below.
Looking for more gift ideas?
Check out all different kinds of monthly subscription boxes and find out more about subscriptions here!
Also be sure to see our top 5 picks for the best monthly subscription boxes for men, women, and children.
See a complete list of gift ideas or NJ souvenirs to find something different.
Disclosure: The Shop.FunNewJersey.com Store is an affiliate site where we have partnered with local companies to promote and sell their products through our affiliation. We are proud to partner with the Amazon Services LLC Associates program, which is one of the biggest and most respected programs on the internet.