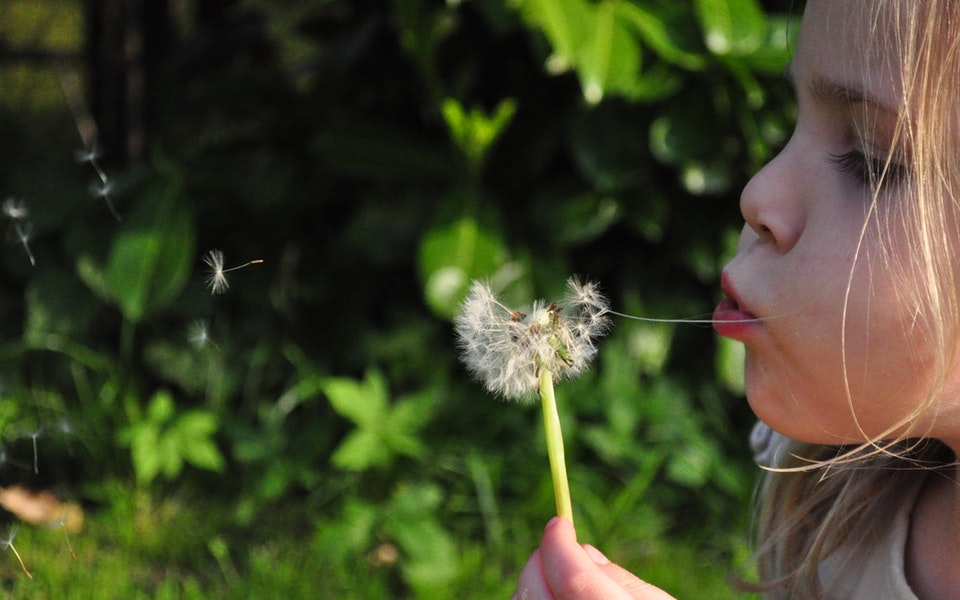 ---
See our picks for the Top Monthly Subscription Boxes:
For Women For Men  For Kids Our #1 Family-Friendly Pick
---
Give your Kids a Fun Surprise that Comes Each Month!
The only thing better than a really cool gift is a really cool gift that shows up every month.
Imagine just how excited your kids would be knowing they have an awesome surprise coming in the mail every month. They will be eagerly anticipating it's arrival with every day that passes!
If you were looking for a way to keep the kids occupied and away from the screens that seem to be consuming their lives, a subscription box is the way to go. Most of the subscriptions made specifically for kids are focused on encouraging time for critical thinking, hands-on projects, and real-life play.
Check out our picks of the top 5 subscription boxes available for kids–all of which teach an important lesson or skill.
Compare the 5 Best Monthly Subscription Boxes for Kids
Option to pause subscription
CHallenge your little ones and yourself with these fun puzzles!
A themed box with challenges, brain teasers, puzzles, instructions, and inspiration for ages 8 and up
Send your little explorer on a trip around the world right at home!
Choose between a science expedition world edition, early explorer, or USA edition boxes for your little explorer

Make-Believe Play and Craft kits for kids aged 3-7 years old
Hand-curated educational craft and play kits for kids aged 3-7, encouraging them to step into the make-believe world
Craft subscription box that teaches the importance of charity and giving back
Information on the month's spotlight charity & corresponding craft, all necessary craft materials, and a prepaid return envelope to return craft to charity
Educational subscription box that focuses on an area in space every month
Monthly space exploration plans, acitvity sheets, souvenir toy, constellation card, stickers, and much more!
See our reviews of our choices for the best monthly subscription boxes for kids below.
---
1. Box of Challenge – Inspiring and Challenging Subscription Box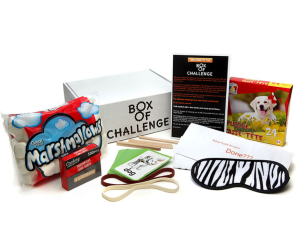 The Box of Challenge is exactly what it's name says it is. If you were looking for a challenging, fun monthly subscription that not only your kids will enjoy, but you will absolutely enjoy as well, then this is it!
The experts at box of challenge experiment and test adventures so that every challenge is a surprise that has it's own theme. The challenges are recommended for 2-6 players, ranging anywhere from 8 to 88 years of age.
Expect to discover fun challenges, brainteasers, puzzles, instructions, and inspiration in every box.
Box of Challenge also gives back 5% of their profits. Shipping is free and upon sign up, your first box will arrive at your door within 5-7 days. It's that easy!
---
2. Little Passports – Send them on a Trip Around the World Right from Home!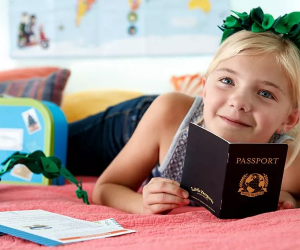 Have a little explorer on your hands? You've got to get them the Little Passports subscription box.
Little Passports offers 4 different subscriptions for kids, all centered around the idea of exploration: Early Explorers for ages 3 through 5, World Edition for ages 6 through 10, USA Edition for ages 7 through 12, and Science Expeditions for ages 9 and over.
The World Edition takes your little explorer to one country at a time, using fun letters, souvenirs, activity sheets, stickers, photos and more to teach them about the country of the month. The USA Edition features two new states each month with stickers, postcards, pop-out models, games and activities. The brand new Science Expedition subscription allows your child to solve scientific mysteries each month with hands on experiments, achievement badges, and more. For the little ones, the Early Explorers subscription introduces geography to your child with themes like animals, oceans, insects, world discoveries, art, science, and much more.
---
3. Bramble Box – Encourage Educational Make-Believe Play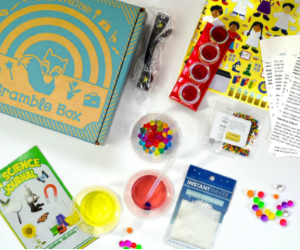 The idea of Bramble Box is to encourage children to engage in make-believe, creative, and free play. This means dressing up, taking on roles, and seeing the world through different perspectives.
Each Bramble Box is hand-curated, parent created, and kid tested for hours before arriving at your door.
Bramble Box allows you to choose the theme of your box at checkout, and won't send any duplicates. Some of the past themes include World Traveler Box, Ice Cream Shop, Circus Box, Gardener Box, Wizard Science Box, and much more.
The monthly subscription box for kids was awarded the Parents' Choice Recommended Award in 2016 for their Pizzeria Pretend Play Kit.
---
4. Little Loving Hands – Make Caring Fun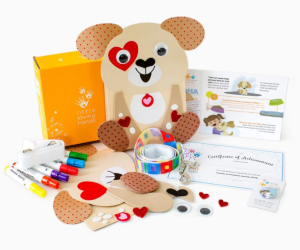 Little Loving Hands is a craft subscription box for kids with a really important message. This subscription is one that will teach your child the importance of who, why, and how they should be helping the world.
Each month, a box is delivered to your door with all of the necessary materials for a craft focused on one specific charity. The organization changes monthly, and each box includes educational information about it, along with a certificate of achievement, a collectible button, and more.
Using the prepaid return envelope included in the box, send the child's finished craft back as a donation to those in need. Teach them to "throw kindness around like confetti"!
See more about Little Loving Hands!
---
5. Space Scouts – Take them on a New Space Expedition Each & Every Month!
Space Scouts takes your child on a fun monthly space expedition through the solar system guided by Roxy and Jett.
In their first box, your child will receive a lunchbox to use as storage for the monthly magnet collection, a poster to map and mark with the monthly exploration sticker, and a constellation card startup kit to hold the monthly constellation card collection.
Each month, your child will receive an exploration plan that describes the place that must be explored for that month, a magnet to add to the lunchbox, a sticker to add to the poster, an activity sheet with puzzles, games, and activities, a sticker scramble, a souvenir toy, a constellation card, and a constellation sheet. They will learn mythological stories and use learning activities to identify constellations in the night sky.
Get Started with Space Scouts!
---
Thanks for checking out our list of the 5 Best Monthly Subscription Boxes for Kids!
Also, be sure to check out our choices for the 5 best monthly subscription boxes for women and the 5 best monthly subscription boxes for men.
Find out some more information about subscription boxes here.
Looking for more gift ideas? Check out our boys' and girls' NJ-themed apparel to find something for the little one from New Jersey!
Have a kid's birthday coming up? Find cool kid's birthday party ideas, and shop for the most awesome kid's birthday party gifts.