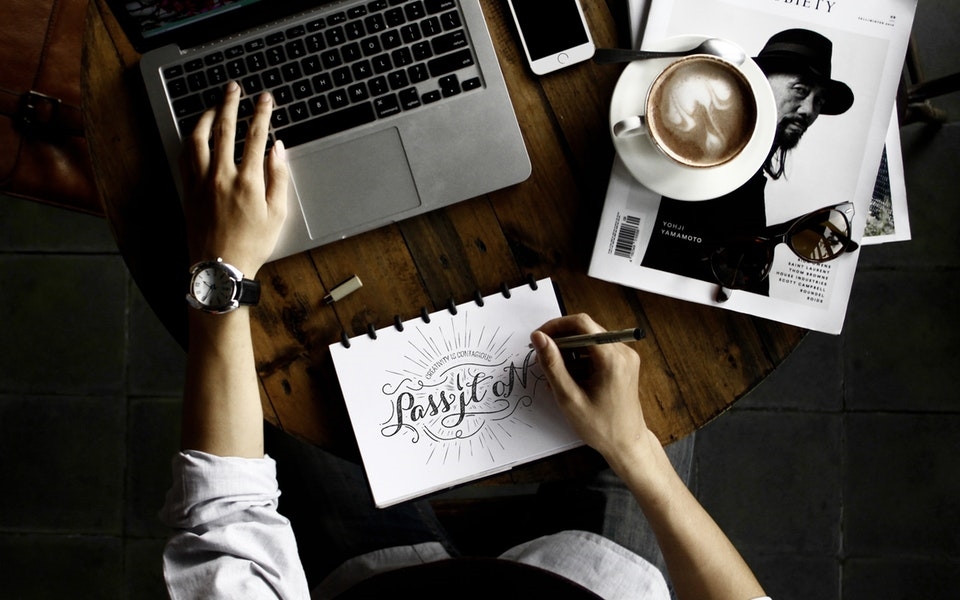 ---
See our picks for the Top Monthly Subscription Boxes:
For Women For Men  For Kids Our #1 Family-Friendly Pick
---
Surprise him with a gift that will make him smile every month
Looking for a gift for him that is both unique and extraordinary?
Look no further! Monthly subscription boxes are huge now, and make for one of the coolest and most unique gift ideas out there.
The subscription box of your choosing will arrive every month to his doorstep, leaving him with 30 days to enjoy your gift before a new package arrives the next month.
If it sounds like a great deal, that's because it is! Lucky for you, we have spent hours searching for the very best monthly subscription boxes for men and narrowed it down to our top five picks.
There's a subscription box for every man out there. The best part is that all of our top picks offer many customizable options, which means you are sure to find a box that will please the man in your life.
Compare our picks for the Best Monthly Subscription Boxes for Men
[supsystic-price-table id=9]
Need help choosing which subscription box will be best? Check out our in-depth reviews of each below.
---
1. Sock Panda – 1-2 Pairs of Cool Socks Delivered Monthly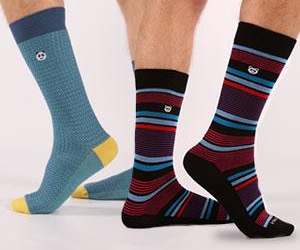 Let's face it–socks are just fun!
Because they're not always visible, it can be so fun to pick out cool or funny socks, and they have proven to be great conversation starters as well. While women often like to accessorize with fun jewelry, men find it fun to mix up the socks they wear.
Sock Panda is a monthly subscription box that delivers one to two pairs of fun socks right to your door every month. While the socks that are delivered are kept a surprise until the package arrives to your doorstep (that's part of the fun!), Sock Panda allows you to choose between three packages for the man you are buying for.
These include "Stylish & Suave", "Daring & Bold", or "One of Each". These options make the subscription super customized without eliminating the element of surprise.
With every new subscription and renewal that Sock Panda gets, they donate a pair of socks to those in need.
Order Sock Panda Subscription Now!
---
2. JackedPack – Try the Newest Supplements in a Monthly JackedPack!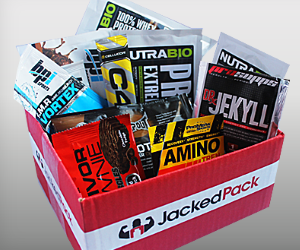 Shopping for a man who loves to work out? He is absolutely going to love having a JackedPack subscription!
Our favorite part about JackedPack is just how customizable it really is. Choose whether your goal is to build muscle or lose fat. Next, choose the flavors you prefer for pre-workout and creatine (options include fruit punch, watermelon, blue raspberry, orange and more). Finally, choose the flavors you prefer for protein (options include chocolate, vanilla, cinnamon, s'mores, banana, cake batter, and much more). JackedPack uses your preferences along with your information (gender, age, weight, height) to curate the perfect box of monthly samples and supplements.
JackedPack sends 5-10 samples every month that are customized for your goals and offers you the option to share your feedback on the supplements you receive. Keep track of the supplements you enjoy and save both time and money when purchasing these in the future.
JackedPack also sends a free shaker cup in the third pack for new sign ups.
Order the JackedPack Subscription Box!
---
3. Bacon Freak – Premium Bacon Delivered to your Door Every Month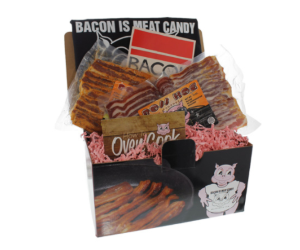 Know a man who just loves bacon? Who doesn't!
Bacon Freak offers a "Bacon of the Month Club", in which different varieties of gourmet bacon are delivered to you door each month.
Why have the same bacon over and over when you can take this opportunity to try all different flavors of bacon?!
You have the ability to customize your Bacon of the Month Club subscription, as Bacon Freak offers many different packages. Choose between regular, no pepper bacon, nitrate free bacon, gluten free bacon, bacon jerky, or single packs of bacon to be delivered each month.
Bacon Freak also offers a "wedding" package, which includes his and hers bacon and shirts. Also be sure to check out their "Swine & Wine Clubs", which come in either red wine or white wine packages.
Sign up for the Bacon of the Month Club!
---
4. Geek Box – Fulfill his Inner Geek Once a Month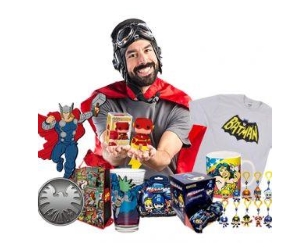 Whether you know a man who needs more than just small collectibles or who just enjoys nerdy collectibles, there is a Geek Box for him!
Choose between the Geek Peek, Premium Geek, Ultimate Geek, or even Geek Chic (for the geeky girl in your life!) packages to find one that he will love.
The Geek Peek package comes with 4-6 small geeky indulgences. The Premium Geek package comes with 5-8 geek goodies of the premium quality. The Ultimate Geek package comes with a varied amount of collectible geeky items.
Geek Box collaborates with Marvel, DC Comics, Star Wars, Funko, and many other companies so that they are able to put the very best products in their subscription boxes. Expect to be delighted with t-shirts, action figures, comics, and more every month.
---
5. Awesome Pack – A Monthly Subscription to Everything AWESOME!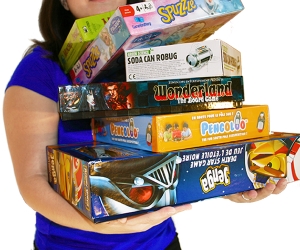 Do you know a man who loves spending his time figuring out cool puzzles and playing games? He is going to love a subscription to Awesome Pack.
Awesome Pack offers two different packages, the "Family Pack" which is geared towards a family of four, as well as a "Big Kid Pack", which is designed for adults.
The Big Kid Pack comes with a board game, a smaller game, a mini game, goodies, customized goodies, and hours of fun.
All of the items in the box are handpicked by AWESOME experts, based on ratings and reviews, and shipped to your door each month. Every box contains a "Super Awesome Board Game" that is good for the whole family to play.
Subscribe to the Awesome Pack!
---
Thanks for checking out our list of the best monthly subscription boxes for men!
Also, be sure to check out our choices for the best monthly subscription boxes for women and the best monthly subscription boxes for kids.
Also find more information about monthly subscription boxes.
See all subscription boxes for men.
See all of our gift ideas here!